Description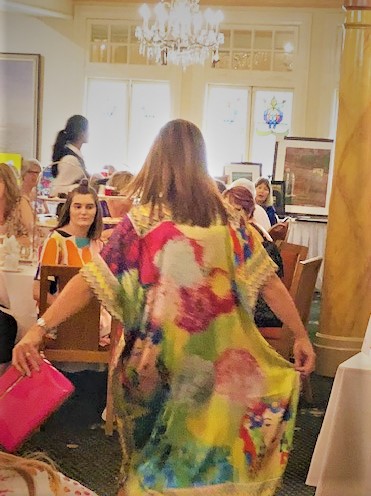 A Mexican artist who painted surrealistic portraits inspired by nature and the artefacts of Mexico, employing a naive folk art style. She was disabled as a child with polio and suffered from spina bifida. After a serious accident most of her paintings were related to both the physical and mental emotional pain experienced during her turbulent life. She married the Mexican muralist Diego Rivera and used art as a means of expressing hurt to expel her demons. She was interested in politics and supported the Mexican revolution.
I created this kaftan out of respect for Frida, her achievements and her ability to challenge the status quo. To me she was a gutsy, unique person who dealt with the challenges of life and her paintings today portray that strength of purpose and love of colour and nature. If you have a love of all things Mexican and colour, this is the kaftan for you.
Description:
Luxurious silk kaftans crafted from the highest quality pure silk and featuring unique art designs from Australian artist, Sondra Dawn. These kaftans are colourful and eco-friendly with a free-flowing silhouette. Each kaftan is created exclusively for you, featuring a personalised label*.
*This kaftan has been created exclusively for (your name)
Size / Features:
Relaxed fit – one size complements all body types.
Width 96cms
Length from shoulder to hem  SMALL IS 22 INCHES TO 38 INCHES [ 56  CMS TO 97 CMS]
MEDIUM  39 INCHES TO 45 INCHES [99 CMS TO 114 CMS]
. Please contact me to enquire longer versions
Please contact me for full details.
Silk Kaftan –       $270.00
Matching scarves are also available. Made from the highest quality silk with hand-rolled edges, the scarves can also be worn as a sarong or headwear.
Silk Scarf:                    190×110 cms:                                      $150.00
Shipping:
Orders over $500 Free
Under $500 – Australia $15
Under $500 – International $25
Delivery:  6-8 weeks.