Our Goal
To produce natural silk and cotton products that are inspired by nature using flora and fauna themes.
Profits are given to charity groups and so far proceeds have been donated to  Pink Ribbon, Mummy's Wish, Share the Dignity, and supporting Zephyr this year 2019.
---
About the artist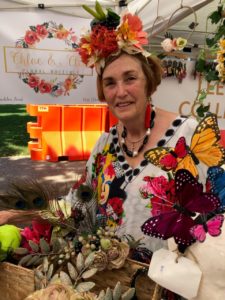 Inspired by her love of nature, Sondra's art captures the colour and beauty of the natural world; be that surrounding her home in the leafy suburbs of Brisbane, or further afield in other areas of Australia and overseas.
Sondra has travelled extensively over the years, and has noticed significant environmental changes to many of the areas she has visited. This has fostered her desire to create an awareness of the importance and beauty of flora and fauna preservation around the world.
 Her love bright bold colours with texture, and the vibrancy is further enhanced on silk or cotton which are natural fabrics, cool in Summer and warm in Winter. All my scarves are luxury items with a beautiful soft feel, a lightweight and travel friendly accessory that can be worn at any time day or night and used to change an outfit in an instant. They make a perfect gift for that special person with many contemporary designs to select from.
The wearable art designs are from Sondra's collection of original hand painted work in acrylics, mixed media and water colours as mediums. They are digitally printed onto natural fabrics to create the beautiful designs.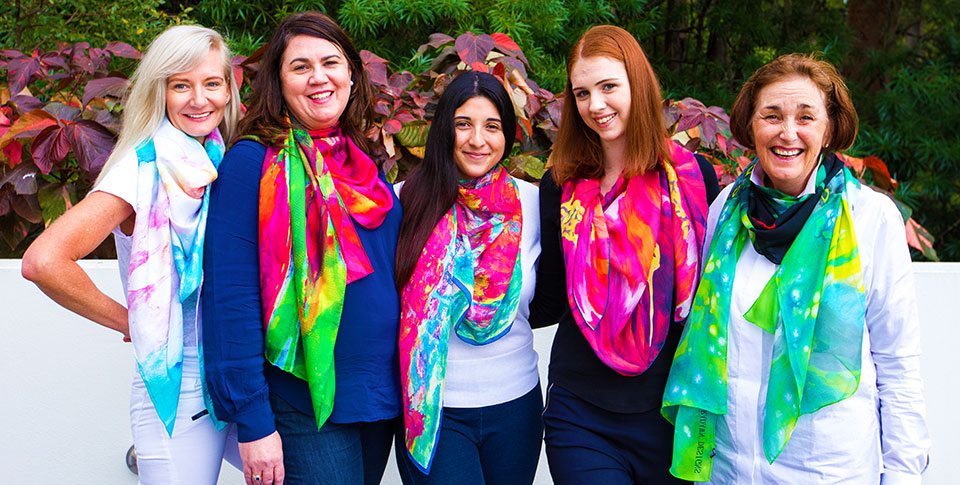 ---
Antarctic Collection
This collection was inspired by a recent trip to the Antarctic with the National Geographic Team. I was in awe of the size and grandeur of this beautiful environment, with its surplus of animals and birds. My experience has left me with a lifelong desire to help keep our environment pristine to be enjoyed by successive generations.
---
Australiana Collection
I live in magical Queensland home of the Great Barrier Reef with its diversity of sea life, fish, turtles, mammals, birds and colourful corals. Australia is a land of many contrasts, from the evergreen Tropical Rainforest where Koalas, Cassowaries and colourful Parrots live, to the Outback Wilderness with its desert rocks and mountain formations like the Flinders Ranges, the Kimberley's and the Bungle Bungles. I am never short of subjects for my Australian artwork.
---
Bird Collection
I have always had a great passion for birds and as a young child I had many happy times helping to save little baby birds and ducks who had fallen prey to the elements. Imagine my delight as an adult to see such a wonderful collection of beautiful colourful birds on my own doorstep. I wake up to the screech of the white cockatoos and in the nearby bush I can watch bush turkeys foraging for food and hear the laughing kookaburra. This inspires the collection.
---
Flora Collection
This collection is inspired by my love of flowers; thinking of the scents of an old fashioned rose, a spring hyacinth and native flora found in the tropical forests including the wildflowers of the bush like the Cooktown Orchid and desert species like the Stuart Pea.
I also adore trees and looking at the bush at various times of the day to see all the different colours within one small area from deep dark olive green to soft sap green and even purples and lilacs along with burnt siennas and greys to ultramarine, cobalt, and sky blues all playing a part to create a rainbow of colours.
I have endeavoured to create some interesting scarves within this collection.
---
Safari Collection
This collection was inspired by visits to Africa and I quickly came to realise the plight of the endangered animals there.
Signature Collection
I have tried to use soft, sensitive tones – using colours of the rainbow, along with stained glass patterns in stronger colours which express the beauty of the world around us. It is through this collection I am hoping to inspire others to develop an eye for the different, the mysterious and the beauty of the world.
Some of the scarves will be beaded and could be used framed as a works of art in your home.