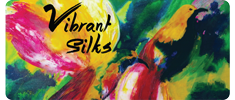 Vibrant Silks is located in Queensland, Australia.
We ship our beautiful silk and cotton products both within Australia and Internationally.
To ask a question or to subscribe to our newsletter and receive early-bird previews and discounts, please fill in the form below and I will get back to you as soon as possible.
Thank you, Sondra