Description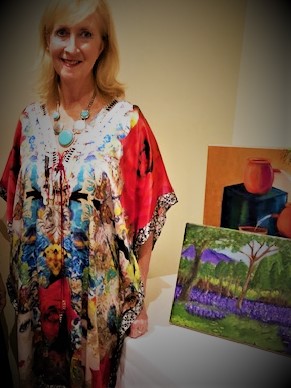 Venice is one of the places that you have to visit at least once in your lifetime. It is built across 100 small islands in a lagoon of the Adriatic Sea.  There are no roads and the architecture is a tribute to the Renaissance and Gothic periods. Especially famous are St Marks Basilica with it famous mosaics, and the pink and white Doge's Palace. Memories of being one of the partygoers dressed in an elaborate Carnivale mask and costume spring to mind. The border of this kaftan is inspired by the Byzantine mosaics of St Marks Basilica.
Description:
Luxurious silk kaftans crafted from the highest quality pure silk and featuring unique art designs from Australian artist, Sondra Dawn. These kaftans are colourful and eco-friendly with a free-flowing silhouette. Each kaftan is created exclusively for you, featuring a personalised label*.
*This kaftan has been created exclusively for (your name)
Size / Features:
Relaxed fit – one size complements all body types.
Width 96cms
Length from shoulder to hem from 95cms to  107cm. Please contact me to enquire about shorter or longer versions
Split sleeves
Please contact me for full details.
Silk Kaftan –         $270.00
Matching scarves are also available. Made from the highest quality silk with hand-rolled edges, the scarves can also be worn as a sarong or headwear.
Silk Scarf:                    190×110 cms:                                      $150.00
Shipping:
Orders over $500 Free
Under $500 – Australia $15
Under $500 – International $25
Delivery:  6-8 weeks.