Description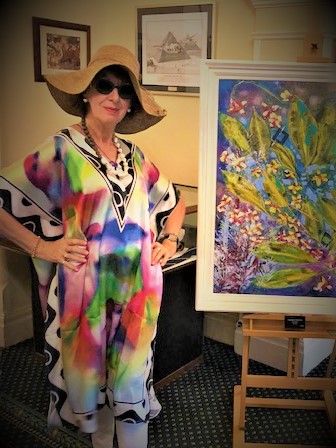 This kaftan was created from observing the Lorikeet Parrots with their incredible flying skills , their speed and acrobatic performance in the trees as they interact with each other. Parrots have vibrant coloured feathers and my watercolour interpretation of the  colours and movement of these birds is reflected in this kaftan.
These fascinating  cheeky colourful birds eat pollen, fruit, nectar, and insects and are found along the seaboard coast from Queensland to South Australia and N.W. Tasmania.
Description:
Luxurious silk kaftans crafted from the highest quality pure silk and featuring unique art designs from Australian artist, Sondra Dawn. These kaftans are colourful and eco-friendly with a free-flowing silhouette. Each kaftan is created exclusively for you, featuring a personalised label*.
*This kaftan has been created exclusively for (your name)
Size / Features:
Relaxed fit – one size complements all body types.
Width 96cms
Length from shoulder to hem  SMALL 22 INCHES TO 38 INCHES [56 cms to 97 cms ]
MEDIUM TO LONG 39 INCHES TO 45 INCHES  [99CMS TO 114 CMS]. Please contact me to enquire about shorter or longer versions
Please contact me for full details.
Silk Kaftan –       $270.00
Matching scarves are also available. Made from the highest quality silk with hand-rolled edges, the scarves can also be worn as a sarong or headwear.
Silk Scarf:                    190×110 cms:                                      $150.00
Shipping:
Orders over $500 Free
Under $500 – Australia $15
Under $500 – International $25
Delivery:  6-8 weeks.